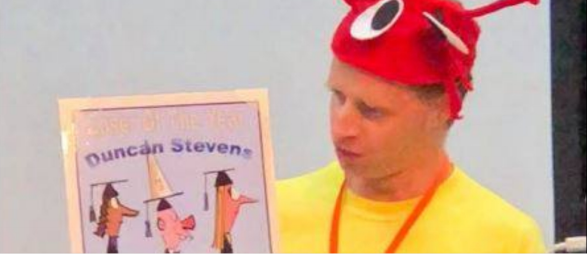 Song parodies from the Flushies awards, 2018
This link shows video of the whole presentation.
I'M A LOSER, set to the Beatles song "I'm a Loser"
By Nan Reiner, known on Facebook as Kitty Ditty
Video clip of the Beatles
I'm a Loser .. I'm a Loser ..
Yes, I'm just what I appear to be....

Of all the ways I could have overdosed,
My drug of choice is to joke for The Post.
They're mediocre, the millions I send;
Hoping for winsome, to Lose in the end.
I'm a Loser, and I've lost all shreds of dignity.
I'm a Loser, but I crave that inkblot infamy.

I scan the news to react like a clown;
If not for that, in my gloom I would drown.
Worst kakistocracy rubles can buy;
By war or warming, we're all doomed to die.
I'm a Loser, and I strive for imbecility.
I'm a Loser; it's a dubious ability.

What have I done to deserve such a group,
Who spend our lives writing riffs about poop?
We may have dweebs, and some dorks, and some gumps,
But this takes brains, so we'll never have Trumps.
I'm a Loser, but I've found my own community.
I'm a Loser: a superlative snarkocracy.

What's there to gain? Don't earn healthcare or cash.
A name in print people throw in the trash.
Still, every week, there's that clarion call;
I'm so far lost, might as well Lose it all.
I'm a Loser; if I seem like pure puerility,
I'm a Loser, and I'm just what I appear to be… [strum]
---
THE LOSERS OF THE 'VITE
(tune: "The Music of the Night" from "The Phantom of the Opera")
By Duncan Stevens, Year 25 Loser of the Year, 2018
Link to video clip of "The Music of the Night"
Every Sunday Post contains a section
Which suggests a widespread brain infection--
Nerdy jokes, presented by folks who seem demented;
What poor people suffer from this plight?
They call themselves the Losers of the 'Vite.
Scanlan, Dopart, Frankovich and Witte,
Raffman, Reiner (known as Kitty Ditty),
Doyle, Crockett, Hart--they're all masters of the art,
Each one just a bit deranged (to be polite)--
That's why we call them Losers of the 'Vite.
Lose your shame, cast aside all social niceties,
Tell your friends that their mama's rather fat,
Come to brunch, wearing some outrageous hat,
And you might catch the eye of Empress Pat.
Obits, crosswords, wacky legislation,
Foal names, fictoids, headlines in translation,
Protest sign suggestions, journalistic questions,
Verse that's lively, topical and light--
All fodder for the Losers of the 'Vite.
Let your mind fill with entries, write them day and night,
Craft them while washing dishes in the sink,
"Here's a fine 'And Last' candidate," you'll think--
Only then will you obtain much ink.
Are your limericks strict in rhyme and meter?
Can you zing the High Commander Tweeter?
Are puns your lingua franca? Can you compose some tanka,
Or asterisky humor recondite?
You too can be a Loser of the 'Vite.

Lunacy plus wit with verve and bite,
That's what makes a Loser of the 'Vite.
---
IN HONOR OF DUNCAN'S BEING NAMED LOSER OF THE YEAR, by his former co-worker Barbara Sarshik, set to Leonard Cohen's 'Hallelujah":
Video clip to "Hallelujah":
He makes up headlines from the Post.
Indeed, he should be diagnosed
With being a formidable Fake News-er.
His entries always find their mark
With zany wit and brainy snark.
And that's why Duncan is our special Loser!
He's a Loser, he's a Loser.
He's a Loser, he's a Looooooser.
He knows the subtle tips and tricks
To parodies and limericks.
And he knows how to please the Royal Chooser.
The fake obits and Yelp reviews,
The cross-bred foals and crossword clues, They're all why Duncan is our special Loser!
He's a Loser, he's a Loser.
He's a Loser, he's a Looooooser.
---
ALSO IN HONOR OF DUNCAN, by Elden Carnahan, who has had ink in all 25 years of the Invite's history, to "Sunday Will Never Be the Same," by Spanky and Our Gang Link to "Sunday Will Never Be the Same"
We remember Sunday mornings --
We would get up in the dark
To read that in some weekly thing
We'd hit it out the park.

Now we wake up Sunday mornings,
Open up the Post to find
No ink is waiting for us --
Duncan's took it all away.
Sundays will never be the same --
(We'll have to find some other game)
Our old monopoly
Will not be seen again.
Clerihews and epitaphs and "What Does God Look Like?"
We were notoriously snarky,
Now we can't remember why.
And no longer can we confidently send in crap,
We should retire, the fun is gone and we think we're gonna snap.
But if we're never quite the same
(We may yet win dactylic fame),
'Cause in Year Twenty-Five
He's one Win to his name.
So remember Gearty?
Thring and Linda Malcolm?
We remember them, and where are they now?
For now our Duncan's on his game
(Halfway to the Hall of Fame) --
He's done our Sundays wrong,
And he'll be back again.
Sundays will never be the same --
He is our existential bane --
Duncan may never go away --
Sundays will never be the same.
---
IN HONOR OF MARK RAFFMAN'S 500th INK and induction into the Invite Hall of Fame, set to "Be Our Guest," a song that Mark got ink with in parodies time and again. By Nan Reiner.
Video clip of "Be Our Guest," from "Beauty and the Beast"
He's a pest! He's a pest!
Stealing ink from all the rest.
Now he's thundered past five hundred,
'Cause his barbs are always best.
Fractured heds, backwards asks,
He's a master of all tasks.
Stellar songsmithing satiric,
Matching wit to lilting lyric.
King of snark, but not screed;
Racked up blots with lightning speed.
Didn't take him long to triumph on this quest.
With top neologisms and eroticisms,
He's a pest! Such a pest! He's a pest!

He's a pest! He's a pest!
Since he first essayed this test.
Yearly foalery filled with drollery;
Every quip has incandesced.
Slightly crass, slightly crude,
As hilarity ensued,
And of course he won the inkin'
Writing Yelp as Mary Lincoln.
Sparkling verse, crisp and terse,
Is his blessing and our curse.
It's no wonder he's consistently Empressed.
Mark's wit is worth our wows, and
Soon he'll slug a thousand.
Well finessed – never stressed – beats our best – he is a pest!
---
OUR WARMUP ACT: Howard Walderman on current events, set to the Harry Belafonte song "Scarlet Ribbons"
"Scarlet Ribbons"
As I sneaked in to see the White House,
I heard Trump yell on the staircase.
"I need color, bright orange color"
"So that I can do my face."
The White House switchboard wasn't working.
All the stores were closed in town.
No staff there to do his bidding
Because the government shut down.
Through the night his wife was shaking,
Not knowing what Don's mind was baking.
Then I peeked in and on his dresser,
Ignoring its own substance ban,
The Pentagon had saved the day
With Agent Orange in a can.
"He could live to be 200,"
Ron Jackson said, and I don't care,
So long as he vacates the Office,
Packs a bag and moves elsewhere.