The Style Invitational
Week 326: Comic Relief
Sunday, June 13, 1999

---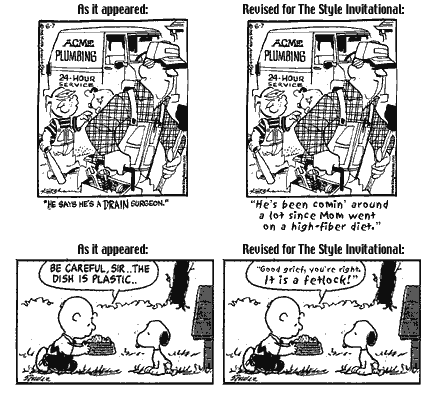 This Week's Contest was proposed by Jeff Seigle of Herndon, who wins a copy of the bestselling novel "Star Wars: Episode I," signed by William Shakespeare. Jeff suggests that you look at today's comics pages, select one panel and one panel only from any comic strip, and rewrite the dialogue. You may add or eliminate a balloon, and may add a caption beneath the picture, but you may not alter the drawing in any way. Your rewritten panel should stand alone as its own cartoon. Yes, you can use a single-panel strip, like The Family Circus. The two examples above were rewritten by cartoonist Bob Staake, using the daily comics from last Monday. You need not send us the cartoon: Just explain which frame of which strip you are using, and give your new wording. First-prize winner gets a vintage 1970s-era political T-shirt urging the acquittal of Bernhard Goetz, the geeky New York City subway vigilante who shot his would-be muggers. "He Who Takes, Goetz It," says the inscription, beneath a drawing of a handgun. This is worth $30.
First runner-up gets the tacky but estimable Style Invitational Loser Pen. Other runners-up receive the coveted Style Invitational Loser T-shirt. Honorable Mentions get the mildly sought-after Style Invitational bumper sticker. Winners will be selected on the basis of humor and originality. Mail your entries to the Style Invitational, Week 326, c/o The Washington Post, 1150 15th St. NW, Washington, D.C. 20071; fax them to 202-334-4312; or submit them via e-mail to this address: losers@washpost.com. E-mail users: Please indicate the week number in the "subject" field. Also, please do not append "attachments," which tend not to be read. Entries must be received on or before Monday, June 21. Important: Please include your postal address and phone number. Winners will be announced three weeks from today. Editors reserve the right to alter entries for taste, humor or appropriateness. No purchase necessary. The anonymous entry below was written by Stephen Dudzik of Silver Spring. Employees of The Washington Post and members of their immediate families are not eligible for prizes.
Report from Week 323,in which we asked you to come up with good inventions that still need one little bug ironed out.
But first, the Czar wishes to report the results of an interesting experiment. This week, after judging the contest, he reshuffled the 75 best entries and asked the Czarevich to choose the 30 he would publish. Astoundingly, father and son came up with almost the identical set of finalists and winners – thus proving conclusively, with no other possible interpretation, that this 14-year-old boy has the sophisticated sense of humor of an adult.
Incidentally, both Czar and Czarevich reluctantly disqualified the same entry, by Rick Haynes of Potomac, because they independently concluded that it was not a bad idea – as required by the contest – but an extremely, wonderfully good idea. It is a whoopee cushion that makes no noise but emits a really bad smell.
Fourth Runner-Up: A single phone number that instantly connects you to all emergency services merely by dialing 9-1-1-7-9-#-3-8-5-8-*-7-3-1-6-4-#-3-3-0-7. Beland, Springfield)
Third Runner-Up: Life jackets that are inflated with the gas given off by rotting chum inside. (Meg Sullivan, Potomac)
Second Runner-Up: Something for your computer that allows you to select the exact point on the screen you want, using a device based on the claw machine in arcades. (Art Grinath, Takoma Park)
First Runner-Up: Caramel-coated popcorn and peanuts, with a surprise algebra problem in every box. (Greg Dobbins, Arlington)
And the winner of the elegant, bejeweled, one-of-a-kind emerald green leaded glass Style Invitational bumper sticker storage container: A special security device for office buildings that recognizes someone by analyzing his spinal fluid. (Brian Broadus, Charlottesville)u Honorable mentions:
A new kind of personal vehicle that does not wastefully burn fossil fuel, but runs on minced baby seals. (Tom Witte, Gaithersburg)
A whistle that cannot be heard by humans, only skunks. (Art Grinath, Takoma Park)
A medicine to counteract seasickness, in a pork-flavored suspension. (Jennifer Hart, Arlington)
An effective rinse to cure bad breath that leaves the pleasant scent of vodka.
(Paul Kocak, Syracuse, N.Y.)
A chocolate candy bar filled with peanuts, caramel, coconut and sauteed mushrooms. (Bob Dalton, Beaumont, Tex.)
Home delivery of fresh milk, via a trailer of cows driven to customers' doors.
(Rusell Beland, Springfield)
A sound-activated device that allows you to turn on lights or appliances merely by yodeling. (Chuck Smith, Woodbridge)
A pleasant-tasting substitute for eggs made from cow eyes. (Stephen Dudzik, Silver Spring)
Outlawing guns so that only outlaws will have guns. (Charlton Heston, Hollywood; Russell Beland, Springfield)
An inflatable bag mounted in a car's steering wheel that can be deployed at the push of a button when the driver senses a collision is imminent. (Sandra Hull, Arlington)
A roadside zoo that permits children to pet the animals. Porcupines, mostly. (Sandra Hull, Arlington)
A computer program that lets you type a message to a friend and, with one quick tap on the keyboard, alerts a delivery person to stop by your house, pick up the computer and carry it to your friend's house so he or she can read it right off the screen. (Jennifer Hart, Arlington)
A child's toy to blow bubbles: You fill your mouth with a soap solution, hold a plastic wand to your lips and gently breathe out. (Elden Carnahan, Laurel)
Loaves of bread that come pre-sliced, lengthwise. (Meg Sullivan, Potomac;Craig McGowan, Liverpool, N.Y.)
Implants made of silicone to increase the size of your thighs. (Jessica L. Mathews, Arlington; Russell Beland, Springfield)
Colorful rat pellets shaped like "Flintstones" characters. (Brian Broadus, Charlottesville)
A miniature sewing machine, to attach pieces of paper together. (Stephen Dudzik, Silver Spring)
Children's birthday toys consisting of hollow, breakable festively colored papier-mache figures in fun animal shapes, filled with raw animal organs. (Josh Calder, Washington)
A little box that attaches to your phone and, when you're not home, answers it and asks the person calling to send you a letter. (Russell Beland, Springfield)
A multi-use utensil for fast-food restaurants. Called the "spife," it is a spoon whose edge has been milled razor-thin for easy cutting of meat. (Malcolm Visser, Burke)
A toilet-like device to cleanse one's nether regions by producing a stream of water from a fire hose. (T.J. Murphy, Arlington)
A long, thin plastic box that you fill with water and freeze. Later, you use a hacksaw to slice the frozen water into individual "cubes." (Jennifer Hart, Arlington)
A little light on the dashboard, with an image of a gas pump, to inform the driver when the car has run out of gas, giving stranded motorists peace of mind knowing the problem isn't something expensive. (Russell Beland, Springfield)
Rookie of the Week: A futuristic weapon which in no way improves on the design of the medieval sword, thus exposing Jedi to attacks from any idiot with a blaster.
(Karin Robison, Washington)
And last:
A weekly humor contest in a newspaper only open to employees of the newspaper and members of their immediate families. (Joseph Romm, Washington)
And extremely last:
A weekly newspaper humor contest that only publishes contestants' entries, not their names.
Next Week: A Prequel Opportunity Offering