The Style Invitational
WEEK 324: A PREQUEL OPPORTUNITY OFFERING
Sunday, May 30, 1999

---
Raiders of the Lost Car Keys: A young Indiana Jones, during his heavy marijuana years.

One of the Better Stories Ever Told: The life of Jesus's great-uncle Mordechai.

Monica's Story: Episode I – Monica is born, gets her pulkes kissed, goes shopping, gets her toenails done, goes shopping, nearly plotzes from anxiety, goes shopping ...

My Favorite Things: The story of why the Baron Von Trapp was drummed out of the Imperial Navy in 1918 and why he has such a fondness for light opera.

2000: A Space Oddity: Weird, arty conceptual film shows how scientists create "Hal," a super-intelligent computer. Hal works perfectly, until infected by the year 2000 bug. No one notices the problem, until it is too late . . .

THIS WEEK'S CONTEST WAS SUGGESTED BY ELDEN CARNAHAN OF LAUREL, WHO WINS PHILADELPHIA PHILLIES BEVERAGE COASTERS. IN LIGHT OF THE FABULOUS SUCCESS OF "STAR WARS: EPISODE I," ELDEN SUGGESTS THAT YOU COME UP WITH A "PREQUEL" TO SOME CLASSIC FILM OR WORK OF LITERATURE. YOU MUST PRODUCE A TITLE AND A BRIEF PLOT SUMMARY, WHICH OF COURSE MUST TAKE PLACE PRIOR TO THE MAIN ACTION OF THE ORIGINAL WORK. FIRST-PRIZE WINNER GETS A MAGRUDER'S BAG FULL OF PLASTIC FRUIT, DONATED TO THE STYLE INVITATIONAL BY STEPHEN DUDZIK OF SILVER SPRING, WHO WINS A RUBBER CHOCOLATE DOUGHNUT. FIRST RUNNER-UP GETS THE TACKY BUT ESTIMABLE STYLE INVITATIONAL LOSER PEN. OTHER RUNNERS-UP RECEIVE THE COVETED STYLE INVITATIONAL LOSER T-SHIRT. HONORABLE MENTIONS GET THE MILDLY SOUGHT-AFTER STYLE INVITATIONAL BUMPER STICKER. WINNERS WILL BE SELECTED ON THE BASIS OF HUMOR AND ORIGINALITY. MAIL YOUR ENTRIES TO THE STYLE INVITATIONAL, WEEK 324, C/O THE WASHINGTON POST, 1150 15TH ST. NW, WASHINGTON, D.C. 20071; FAX THEM TO 202-334-4312; OR SUBMIT THEM VIA E-MAIL TO THIS ADDRESS: LOSERS@WASHPOST.COM. E-MAIL USERS: PLEASE INDICATE THE WEEK NUMBER IN THE "SUBJECT" FIELD. ALSO, PLEASE DO NOT APPEND "ATTACHMENTS," WHICH TEND NOT TO BE READ. ENTRIES MUST BE RECEIVED ON OR BEFORE MONDAY, JUNE 7. IMPORTANT: PLEASE INCLUDE YOUR POSTAL ADDRESS AND PHONE NUMBER. WINNERS WILL BE ANNOUNCED THREE WEEKS FROM TODAY. EDITORS RESERVE THE RIGHT TO ALTER ENTRIES FOR TASTE, HUMOR OR APPROPRIATENESS. NO PURCHASE NECESSARY. TODAY'S PRIZE NO ONE CLAIMS WAS WRITTEN BY STEPHEN DUDZIK OF SILVER SPRING. EMPLOYEES OF THE WASHINGTON POST AND MEMBERS OF THEIR IMMEDIATE FAMILIES ARE NOT ELIGIBLE FOR PRIZES.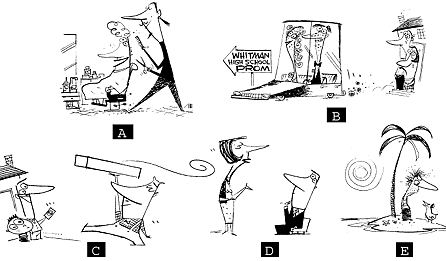 REPORT FROM WEEK 321, in which you were to take any one of five cartoons and tell us how two different people would interpret it.
-Third Runner-Up (Cartoon C): A doctor sees two people opting for a high-fat, high-sodium diet that will in time cause serious health problems. A lawyer sees two people forced to order pizza after they were not served at Denny's. (Tom Witte, Gaithersburg; Sarah W. "Gaymon," Mitchellvile)
-Second Runner-Up (Cartoon B): A rabbi thinks, here are two young adults heading off on a memorable evening in which their values, and the strength of a lifetime of moral training, will be tested and no doubt found strong. His Holiness John Paul II thinks, hey, that kid stole my car! (Brian Broadus, Charlottesville; )
-First Runner-Up (Cartoon C): The average person sees a pizza delivery. A tobacco company executive sees a vision of a glorious future in which pre-lit giant cigars are personally delivered to enthusiastic smokers and their children. (Mike Long, Burke)
-And the winner of the Yosemite Sam painting (Cartoon E): An omnivore would think a man is deciding whether to eat the only other remaining creature on the island. A vegan would say a man is deciding whether to let the chicken eat his nose or possibly his ear cartilage, since the man doesn't really need them and the chicken has as much right to life as he does, and, after all, the man does consume more than his fair share of the island's resources. (Art Grinath, Takoma Park) Honorable Mentions:
Cartoon A:
A heterosexual man thinks, "Ha, a typical woman, wasting her money on a beauty parlor." A gay man thinks, "That bouffant is simply all wrong for her shape head." (Jessica Mathews, Arlington)
A woman thinks, "Here's a woman getting a nice haircut." A man thinks, "Here's some babe getting all dolled up for me." (Jean Sorensen, Herndon)
Cartoon B:
A Virginian sees two parents gratified because their son is taking his first step toward adulthood. A West Virginian sees two parents gratified because their son and daughter are taking their first steps to adulthood. (Chuck Smith, Woodbridge)
Rookie of the week:
Adolescents see the kids thinking, "Finally, we're getting out of the house so we can have sex." Parents see the parents thinking, "Finally, they are getting out of the house so we can have sex." (George Chamberlain, aboard the USS Theodore Roosevelt)
Cartoon C:
The average pizza delivery customer sees a pizza delivery. The average anchovy sees ethnic cleansing. (Brian Broadus, Charlottesville)
The average person thinks, well, a family is getting pizza delivered. A member of the Monticello Association thinks, "Say, what is that fellow doing with a $100 bill?" (Ralph Scott, Washington)
A conservative sees a quality product being delivered in a timely manner by an enterprising businessman to satisfied customers, keeping money in circulation and underscoring the inherent value of the American free-market system. A liberal sees a high-fat diet, flagrant squandering of energy resources through the burning of fossil fuel, and income being received in the form of a tip that will probably be under-reported, resulting in a loss of tax revenue that could be used to advance important social programs. (Tom Witte, Gaithersburg)
Cartoon D:
Dr. Laura sees a woman taking control of the situation by telling the man exactly what she will and will not do on a first date and that if he doesn't like it he can date his hand. Howard Stern sees a man about to get a lap dance from a woman who needs a boob job. (Paul Styrene, Olney)
A plastic surgeon thinks, man, if people really had schnozzes like that, I would have it made. A dermatologist thinks, man, I wish I were in Cartoon B. (Meg Sullivan, Potomac)
Cartoon E:
Washington Post readers see a man and a bird on a desert island. Washington Times readers see a bird relaying a secret message to a Chinese agent about U.S. campaign donations. (Bob Dalton, Beaumont, Tex.)
A Democrat would see the horrors of global warming finally coming home to roost. A Republican might see overreaching gun control laws disarming a hunter who will soon starve because he cannot kill his prey. (Stephen Dudzik, Silver Spring)
A vegetarian sees a difficult moral dilemma. A guy on Viagra sees a difficult moral dilemma. (David Genser, Arlington)
God would say, "Two of my beloved creatures are learning to communicate." Satan would say, "Hey, I did that once – stranded some guy on an island with Cindy Crawford and told him, "If you think about sex even once, I'll turn her into a chicken." (Jennifer Hart, Arlington)
Cartoons A and B:
Adults see a woman getting a haircut and two kids heading to the prom. Kids see a car about to run over a barber. Way cool. (Russell Beland, Springfield)
All the cartoons:
The average reader would say, "What a fine idea for a contest!" Russell Beland of Springfield would say, "You know, I've gotta say something. This is the stupidest contest ever. What idiot ever thought of this one? I can't work under these conditions. I'm never entering again. Also, my elbow hurts and I have a cold." (Jean Sorensen, Herndon)