The Style Invitational
Week 320: What Kind of Foal Am I?
Sunday, May 2, 1999

---
Breed Count on Willem to Feud and name the foal Willem da Foe.
Breed Alannan to Temperence Time and name the foal Al-Anon.
Breed Always Believe to Gone North and name the foal Gullible's Travels.
Breed Good Geezer to Light Fingered and name the foal Strum Thurmond.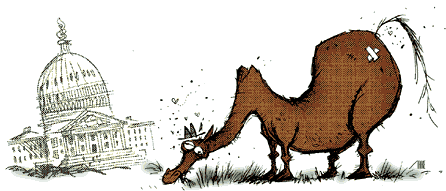 This Week's Contest was proposed, as it is proposed every year, by Mike "Mikey the Tout" Hammer of Herndon, who appears to have only one interest in life, and it is not Schopenhauer. We hear from Mike only once a year, around Kentucky Derby time, when he supplies us with the names of all the horses qualifying for the Triple Crown races and suggests we mate any two and come up with appropriate names for their foals. Maximum 18 letters and spaces. As always, you may ignore the genders of the horses, if – like Mike – you happen to know them. The full list of horses appears elsewhere on this page. First-prize winner gets another fine pewter plate from the Baltimore mayoral administration of William Donald Schaefer.
First runner-up gets the tacky but estimable Style Invitational Loser Pen. Other runners-up receive the coveted Style Invitational Loser T-shirt. Honorable mentions get the mildly sought-after Style Invitational bumper sticker. Winners will be selected on the basis of humor and originality. Mail your entries to the Style Invitational, Week 320, c/o The Washington Post, 1150 15th St. NW, Washington, D.C. 20071; fax them to 202-334-4312; or submit them via e-mail to this address: losers@washpost.com. E-mail users: Please indicate the week number in the "subject" field. Also, please do not append "attachments," which tend not to be read. Entries must be received on or before Monday, May 10. Important: Please include your postal address and phone number. Winners will be announced three weeks from today. Editors reserve the right to alter entries for taste, humor or appropriateness. No purchase necessary. Today's Ear No One Reads was written by Dave Zarrow of Herndon. Employees of The Washington Post and members of their immediate families are not eligible for prizes.
Report from Week 317, in which we asked you to come up with an idea for a Style Invitational contest that fails because there will be only one obvious winner. A tough concept. There were some fine entries, but most stank. Which brings us pretty directly to a digression that will mercifully consume many column inches of space.
Three weeks ago, we offered as the first prize a 1950s-vintage wooden novelty item in which a person using an outhouse can alert the next visitor to the condition of the air within. The item was labeled a "Chick Sales Barometer," which perplexed us. We asked for help. You obliged.
We received dozens of explanations, most of them written in little crabbed fountain pen ink by persons who once drove Stutz Bearcats and remember Trygve Lie. The letters chastised us for being damn fool young hooligans without a lick of sense or, heavens to Betsy, a proper education. "Chick Sales" was evidently a misspelling of "Chic Sale," a well-known vaudevillian from Huron, S.D. In 1929, Mr. Sale wrote a slender volume that became a runaway bestseller to the exasperation of serious, starving artists such as, for example, Mr. William Faulkner. Called "The Specialist," the book was a mere 26 pages and purported to be the technological advice of one Lem Putt, a professional builder of outhouses. "The Specialist" was written in gawrsh-ma'am prose, and contained such philosophies as: "It's a mighty sight better to have a little privy over a big hole than a big privy over a little hole." The book fearlessly discussed the virtues of corncobs vs. catalogues, and why one wants the door to swing inward, so one can keep it open and catch a breeze yet be able to shut it quickly with a foot if someone comes – as opposed to opening outward, where one might have to waddle pants-down to grab the door handle and pull. This was pretty racy stuff, for 1929. More than 2 million copies were sold. Here is the amazing thing: To two generations of Americans, with this tiny book, Charles "Chic" Sale managed to make his very name synonymous with poop! He died in 1936, but "The Specialist" lives on; astoundingly, it remains in print. We hereby declare Chic Sale to be the spiritual forebear of The Style Invitational. At long last, five years after our profoundest embarrassment, we can finally declare:
This is what God looks like.
Now we'll get back to Week 317 as soon as we fess up, forthrightly, to a recent error.
Last week's winning entry was misattributed. It should have been credited to Sandra Hull of Arlington.
Contest ideas that failed because there was only one obvious winner:
Third Runner-Up: A contest to name a medical practice that specializes in treating only elephantiasis and elephant man's disease. Winner: Pachydermatology.
(Dave Garratt, Bowie)
Second Runner-Up: A contest to come up with an unfortunate real-life name for a line of women's clothing. Winner: Sag Harbor. (Sandra Hull, Arlington)
First Runner-Up: A contest to come up with the name of a computer virus that deletes only old, useless files. Winner: The Kevorkian Virus. (Kevin Rowan, Washington)
And the winner of the Chick Sales Barometer: A contest to come up with an inspirational slogan for Cathy Rigby, the former bulimic who played Peter Pan on Broadway. Winner: "I won't throw up, I won't throw up."
(Chuck Smith, Woodbridge)u Honorable Mentions:
A contest to propose an even worse name for Baltimore's football stadium than PSINet Stadium. Winner: Ravensbruck.(Elden Carnahan, Laurel)
A contest to name a chain of grocery stores featuring a full-service deli, a bakery and a brothel. Winner: Shopper's Food Whorehouse. (Malcolm Visser, Burke)
A contest to come up with a fish dish for a restaurant on Route 355 in Montgomery County. Winner: Rockville Pike.(Elden Carnahan, Laurel)
A contest to come up with a name for a new movie about a relief pitcher who must come in when the great, aging starter runs out of gas. Winner: "Saving Nolan Ryan."
(Art Grinath, Takoma Park)
A contest to name a sophisticated expose of corruption in the plumbing industry. Winner: "J'accuzzi." (Jonathan Paul, Garrett Park)
A contest to come up with a new modeling clay, endorsed by Homer Simpson.Winner: Doh.
(Ralph Kass, Potomac)
A contest to come up with a title for a how-to manual that doesn't insult the reader.Winner: "Ventriloquism for Dummies."
(Jonathan Paul, Garrett Park)
A contest to come up with a witty response to someone who says, "Can you give me an anagram for the word "on"? Answer: "No." (Joseph Romm, Washington)
A contest to come up with the best secondary use of a cigar. Winner: Smoking it.
(Alan Orloff, Herndon)
Rookie of the Week:
A contest to come up with an ideal title for a book on how to be condescending. Winner: "Even You Can Learn to Be Condescending!" (Richard Henry, Baltimore)
And Last:
A contest to come up with an inanely derivative, self-referential contest. Winner:A contest to come up with an inanely derivative, self-referential contest.
(Steve Latourette, Arlington)
Next Week: Hyphen the Terrible