The Style Invitational
Week 314: It's the List You Can Do
Sunday, March 21, 1999

---
Albert Gore / Albacore / Canned Fish / Can't Finish / Won't Win.
Cal / Cool / Cold / Old.
Newt / Nude / Nerd / Wuss / Whoosh / Blow Hard / Blowhard.
John Donne / Don Juan / Stud / Board / Bore.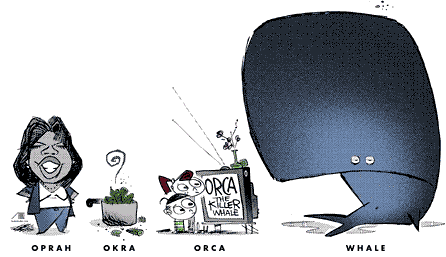 This week's contest was suggested by Dan Burgess of Gaithersburg, who wins a pair of Groucho glasses. Start with the name of a famous person, living or dead, real or fictional, either the full or partial name. Progress through a series of other names or phrases. Each name or phrase must be related to the prior item either by being a homophone (sounds like it, at least pretty closely) or a definition (again, at least close). Eventually, arrive at a name or a phrase that is an appropriate pairing with the original name, as in the examples above. Your list may be as long or as short as you wish. Yes, this is hard. But it is addictive.
First-prize winner gets an ashtray from Graceland, featuring a pink Cadillac. It is worth $20.First runner-up gets the tacky but estimable Style Invitational Loser Pen. Other runners-up receive the coveted Style Invitational Loser T-Shirt. Honorable Mentions get the mildly sought-after Style Invitational bumper sticker. Winners will be selected on the basis of humor and originality. Mail your entries to the Style Invitational, Week 314, c/o The Washington Post, 1150 15th St. NW, Washington, D.C. 20071; fax them to 202-334-4312; or submit them via e-mail to this address: losers@washpost.com. E-mail users: Please indicate the week number in the "subject" field. Also, please do not append "attachments," which tend not to be read. Entries must be received on or before Monday, March 29. Important: Please include your postal address and phone number. Winners will be announced three weeks from today. Editors reserve the right to alter entries for taste, humor or appropriateness. No purchase necessary. Today's Sign No One Heeds was written by Jennifer Hart of Arlington. Employees of The Washington Post and members of their immediate families are not eligible for prizes.
Report from Week 311, in which we asked you to help the fearless outer of Tinky Winky, Jerry Falwell, identify and expose other threats to public morality hidden in our popular culture. But first, an important message. This week, The Style Invitational begins a new feature: Rookie of the Week, in which we publish the best entry by someone whose name appears in the contest for the first time. This idea was gently suggested to us by The Philosopher, the new editor of the Sunday Style section. The Philosopher speaks only in questions. Reluctant as he was to criticize the Czar, a giant of American journalism with an undeserved reputation for petty vengeance, The Philosopher politely inquired whether this feature could use some new blood. Fair enough. The Philosopher wins a new necktie, because we politely contend he could use one, inasmuch as he seems to have worn the same tie, with the same morbid stain, every day for the eight weeks he has been here. Anyway, in future entries, if you have never before been published in The Style Invitational, let us know. (And yes, we will check.) Now, back to new threats to public morality that Jerry Falwell should jump right on.
Fourth Runner-Up: The American flag is homosexual. What are the predominant colors? Red, white and blue. If you combine red with white you get pink. If you combine red with blue you get purple. Both of these are notorious "gay" colors. And what is a star but a combination of triangles? (Art Grinath, Takoma Park)
Third Runner-Up: Antibiotics are a tool of the liberal elite to promote carnal lifestyles. They encourage sexual promiscuity by curing venereal disease.
(David Genser, Arlington)
Second Runner-Up: Barney promotes drug use. "Barney the Dinosaur" is an anagram for "Try heroin, and abuse." (T.J. Murphy, Arlington)
First Runner-Up: Humpty Dumpty discourages lasting, loving relationships and therefore destroys family values. What do I mean? First, ask yourself what "Humpty" "Dumpty" means. I'll tell you what it means. Love 'em and leave 'em.
(Jerry Pannullo, Kensington)
And the winner of the full-body clown costume:
Jerry Falwell is insidiously sending America a subliminal message promoting atheism. His very presence suggests that all those who believe in God are narrow-minded, Bible-thumping, sanctimonious bigots. What a diabolical plan!
(Joseph Romm, Washington)u Honorable Mentions:
The candy bars Almond Joy and Mounds should be removed from the store shelves immediately because of the blatant sexuality of these bars (Almond Joy has nuts, and Mounds – quite obviously – do not). To use this distinction as part of the ad campaign is doubly egregious. (John Kammer, Herndon)
Sperm whales. Kill them all. Or change the name. It'd probably be easier to kill them all, though, what with the books, etc.
(Jean Sorensen, Herndon)
Ever notice how rainbows sometimes appear in the sky? God is gay. (Dave Zarrow, Herndon)
McDonald's golden arches are an enormous illuminated representation of a pair of buttocks. This is telling our youth that pornography is good. (Joe Ponessa, Philadelphia)
Y2K is an anagram for 2KY, which encourages fornication that requires lubricants, and we know what that means. (T.J. Murphy, Arlington)
Bases in baseball should be eliminated completely due to the obvious connotation with sexual achievement during dating. (I am particularly offended by second and third base.) I suggest replacing "base" with "psalm."
(Jean Sorensen, Herndon)
No more Wednesday, a k a "Hump" day. Go straight from Tuesday to Thursday.
(Jean Sorensen, Herndon)
Star 69 is a subliminal way of encouraging people to spend their money on phone sex. (Kerry S. Humphrey, Springfield)
Cheetos encourage marital infidelity.
(Tom Witte, Gaithersburg)
Smokey Bear promotes godlessness. When he says "Only you can prevent forest fires," he denies the existence of the Almighty.
(Jonathan Paul, Garrett Park)
We should outlaw sailing, because of its association with "sale," which leads us right to the mall, then on to Hecht's, which rhymes with sex. So no more sailing. Kayaking is fine, though. For now. (Jean Sorensen, Herndon)
Otto, Sarge's dog in the comic strip "Beetle Bailey," wears a full Army uniform. The message could not be clearer. It is aimed overseas: The U.S. is hopelessly unprepared for full-scale battle, because it is reduced to conscripting dogs for its infantry.
(Sue Lin Chong, Washington)
Uncle Sam. He is your uncle. He wants you. 'Nuff said. (Art Grinath, Takoma Park)
Alpha-Bits must be removed from the shelves at once. The letters left floating in a bowl of cereal might spell out a dirty word, or, like, "gay" or something. (Gloria Behrens, Alexandria)
u Rookie of the Week:
The Smurfs' beloved song goes la la la la la la la la la la la. But play it backward and it clearly states al al al al al al al al al al al. This is a flagrant liberal political message, aimed at the 2000 election. (Jennifer Pratt, Arlington)
Next Week: Books and Books