The Style Invitational
Week 311: A Jerry-Built Contest
Sunday, February 28, 1999

---
The sheath covering the Washington Monument is a flagrant endorsement of birth control, which, in turn, delivers the subtle message that sex is sport, further eroding family values.

What does an American child think when he sees a talking Chihuahua? His dog can't talk. The message is clear, and subversive: Mexicans are better.
Dagwood eats like a pig and never gains an ounce. What is the message to America's youth? Eat. Then they get fat and lazy, ripe for takeover by lean Asian Communists.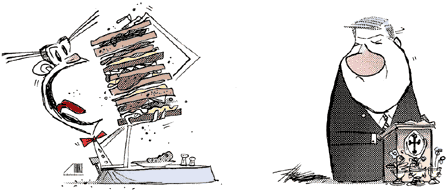 Illustration by Bob Staake for The Washington Post
This week's contest was suggested by Jerry Falwell, who wins "Love Ewe," an inflatable sheep. Jerry inspired the idea for this contest recently when he informed America that he had discovered that Tinky Winky the Teletubby is gay. It occurred to us that we should help Jerry find other cleverly disguised threats to public morality or hallowed American values that may be secretly lurking out there in our culture. Make sure you explain your choice. First-prize winner gets a giant full-body clown costume featuring a rubber head that looks like Clarabelle on a crack frenzy. It is worth $50. It was donated to The Style Invitational by Stephen Dudzik of Silver Spring, who wins a package of edible napkins made out of potatoes ("Shock your guests by eating the napkin!").
First runner-up gets the tacky but estimable Style Invitational Loser Pen. Other runners-up receive the coveted Style Invitational Loser T-shirt. Honorable Mentions get the mildly sought-after Style Invitational bumper sticker. Winners will be selected on the basis of humor and originality. Mail your entries to the Style Invitational, Week 311, c/o The Washington Post, 1150 15th St. NW, Washington, D.C. 20071; fax them to 202-334-4312; or submit them via Internet to this address: losers@washpost.com. Internet users: Please indicate the week number in the "subject" field. Also, please do not append "attachments," which tend not to be read. Entries must be received on or before Monday, March 8. Important: Please include your postal address and phone number. Winners will be announced three weeks from today. Editors reserve the right to alter entries for taste, humor or appropriateness. No purchase necessary. Today's Hole No One Fills was written by David Genser of Arlington. Employees of The Washington Post and members of their immediate families are not eligible for prizes.
Report from Week 308, in which you were asked to come up with modern selecting rhymes to replace the old "eenie meenie miney mo."
But first, a reply to Ginny Sprinkle of Annandale, who writes to complain that the best entries are frequently hidden among the runners-up. "Who selects the winners," asks Ginny, "a chimpanzee?"
No, Ginny. The chimp writes the headlines. The winners are selected by the horse.
Seriously, Ginny, the Czar utilizes humor criteria that are beyond the grasp of ordinary persons. He would no sooner attempt to explain this process to the common reader than Stephen Hawking would attempt to explain the concept of antimatter propulsion to a jelly sandwich. First, it would be pointless, and second, it would be patronizing and cruel. The Czar would no more do that than, say, make fun of someone's name.
Back to Week 308. This was a tough contest. Many people were confused. They submitted nursery rhymes. They submitted sonnets. They submitted cheerleader chants. The best of these was sent in by Greg Arnold of Herndon, who says this is a popular ditty at Thomas Jefferson High School for Science and Technology.
NaCl, H20
Beta, zeta, theta, rho.
Cube root, square root, tangent, sine
Three point one four one five nine.
Newton-meters, kilo-joules
Bits per pixel, TJ rules!
(Greg submitted this without any sense of shame, which is fine with us, Greg. We must be proud of who we are.)
Below, the winners. As always with contests requiring rhymes, we occasionally took a free hand with the editing pencil.u Fourth Runner-Up:
Sara has a PC, Charlie has a Mac
Sara visits chat rooms, Charlie loves to hack
Sara likes to e-trade, Charlie likes eBay
Which one's gonna crash in Y - 2 - Kay!
(Greg Arnold, Herndon)
Third Runner-Up:
See the supermodel strut
Got no bosom, got no butt.
Ate a Tic-Tac? No, no, no!
Off the catwalk, out ... you ... Go!
(Jennifer Hart, Arlington)u Second Runner-Up:
Rise and shine and greet the day
Start it off the healthy way
Food is what your tummy begs
Juice of orange, scrambled eggs
Dry, bland things we hate the most
We chuck you out, 'cause you ... are ...Toast. (Meg Sullivan, Potomac)
First Runner-Up:
Uno, dos, tres
You, get outta ... my ... face.
(Tom Witte, Gaithersburg)u And the winner of the "In Gus We Trust" T-shirt:
Graham, Rogan, Hutchinson, Hyde
Couldn't prove that Clinton lied.
Couldn't prove he was a cheat.
Who's the first to lose ... his ... seat.
(David Genser, Arlington)
Honorable Mentions
Tinky, Dipsy, La-La, Po,
Baby loves to watch your show.
Mommy, Daddy up do throw
Tinky, Dipsy, La-La ... Go!
(Maja Keech, New Carrollton)
One potatoe, two potatoe, three potatoe, infinity
JFK's a friend of mine and you're no Jack Kinnity.
Jack was nimble, Jack was quick
And Jack knew how to spell a lick
Spelling's vital, don't you see?
Y-O-U L-O-S-E!
(Jonathan Paul, Garrett Park)
Salt Lake City, bid committee, I-O-C.
You want the games but my vote ain't free.
Don't bother to shout what your city's about
Slip me a mil or you ... are ... out.
(Brendan Beary, Great Mills)
Poke each other in the eye
Make me laugh until I cry
Drop an anvil on your toe,
Larry, Curly, Shemp and Moe.
Why, you ...
(Bill Strider, Gaithersburg)
Tinky Winky Tee-hee-hee
You are O-U-T-E-D
(Jonathan Paul, Garrett Park)
Next Week: A Stinking Pile of Theses