The Style Invitational
WEEK 298: THE RIGHT STUFF
---
My monopoly on nooky.
Moo. Moo.
No lumpy milk.
I'm no killjoy.
Jump upon my loin.
This week's contest: Write a sentence, or phrase, or entire passage, using only your right hand on the keyboard. This means you may use no keys to the left of N, H, Y and 7. (Unlike Archy the Cockroach, you may simultaneously use the shift key.) First-prize winner gets a talking Christmas wreath, which is worth $20.
First runner-up gets the tacky but estimable Style Invitational Loser Pen. Other runners-up receive the coveted Style Invitational Loser T-shirt. Honorable Mentions get the mildly sought-after Style Invitational bumper sticker. Winners will be selected on the basis of humor and originality. Mail your entries to the Style Invitational, Week 298, c/o The Washington Post, 1150 15th St. NW, Washington, D.C. 20071; fax them to 202-334-4312; or submit them via Internet to: losers@washpost.com. Internet users: Please indicate the week number in the "subject" field. Also, please do not append "attachments," which tend not to be read. Entries must be received on or before Monday, Dec. 8. Important: Please include your postal address and phone number. Winners will be announced three weeks from today. Editors reserve the right to alter entries for taste, humor or appropriateness. No purchase necessary. This week's promo promo ad was written by Jonathan Paul of Garrett Park. Employees of The Washington Post and members of their immediate families are not eligible for prizes.

REPORT FROM WEEK 295, in which we asked you to help us fill in the missing panel in any of four cartoons. Many people made the excellent suggestion that Cartoon D, with its blank last panel, was already complete.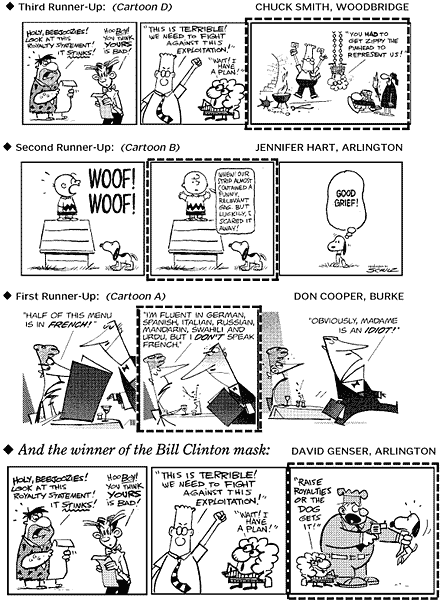 Illustration by Bob Staake for The Washington Post



See page 2 for last week's honorable mentions.