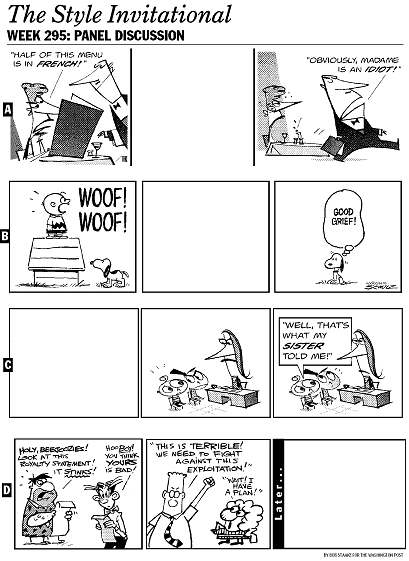 Illustration by Bob Staake for The Washington Post
This Week's contest: Supply the contents of the missing panel. Choose one strip or more. Just tell us who is in it, and who is saying what. We'll draw the winners.
First-prize winner gets a Bill Clinton Halloween mask. It is worth $25.
First runner-up gets the tacky but estimable Style Invitational Loser Pen. Other runners-up receive the coveted Style Invitational Loser T-shirt. Honorable Mentions get the mildly sought-after Style Invitational bumper sticker. Winners will be selected on the basis of humor and originality. Mail your entries to the Style Invitational, Week 295, c/o The Washington Post, 1150 15th St. NW, Washington, D.C. 20071; fax them to 202-334-4312; or submit them via Internet to this address: losers@washpost.com. Internet users: Please indicate the week number in the "subject" field. Also, please do not append "attachments," which tend not to be read. Entries must be received on or before Monday, Nov. 16. Important: Please include your postal address and phone number. Winners will be announced three weeks from today. Editors reserve the right to alter entries for taste, humor or appropriateness. No purchase necessary. Today's Correction No One Needs was written by Richard Leiby of Silver Spring. Employees of The Washington Post and members of their immediate families are not eligible for prizes.
Report from Week 292, in which you were asked to propose punishments for President Clinton.
Second Runner-Up: For his entrances, "Hail to the Chief" will be replaced by that striptease theme. (Jason Zweiback, Livermore, Calif.; Sandra Hull, Arlington)
First Runner-Up: From now on, after sex, he has to "cuddle." (Brian Broadus, Charlottesville)
And the winner of the beaded and mirrored elephant:
Secret Service Agents get to wear "I'm With Stupid" T-shirts. (Art Grinath, Takoma Park)
Honorable Mentions: On those tacky souvenir presidential plates, across Clinton's face print a big APPREHENDED. (Barry Blyveis, Columbia)
The president must go to 10 book signings, and autograph copies of the Starr Report. (Barry Blyveis, Columbia; David Kleinbard, Washington)
The president must use the discarded portion of Paula Jones's nose as a shot glass to drink Clamato. (Jean Sorensen, Herndon)
After leaving the White House, make him move to Arkansas and live with a shrew. What? Oh, never mind. (Clark Kidd, Sterling)
Make him do that cigar thing. (Phil Frankenfeld, Washington; Robin D. Grove, Arlington)
He must legally change his name to The Big Creep. (Meg Sullivan, Potomac)
His only outlet is phone sex with Fran Drescher. (Chuck Smith, Woodbridge)
The license plate on the presidential limo will read OVRSEXD. (Stephen Dudzik, Silver Spring)
"Hail to the Chief" will be played, but only by a kazoo-and-armpit band. (Sandra Hull, Arlington)
In the movie, Monica Lewinsky's part will be played by Kate Winslet. Clinton's part will be played by Buddy Hackett. (Art Grinath, Takoma Park)
He has to kiss William Ginsburg on his pulkes. (Julia Gordon, Washington; Jennifer Hart, Arlington)
We fix it so that whenever he tries to make love to a woman, she points at his genitalia, laughs uncontrollably and leaves. Over time, this really gets to a guy. Trust me. (Brian Broadus, Charlottesville.)
Keep his White House security deposit. (J. Larry Schott, Gainesville, Fla.)
We could name an airport after him. It would be some place like Hoople, N.D., and it would just be a cornfield with a windsock. (Brian Broadus, Charlottesville)
Any campaign commercial featuring Clinton will be narrated by Gilbert Gottfried. (Stephen Dudzik, Silver Spring)
Tell him there is a large order of fries in the corner of the Oval Office. (Elden Carnahan, Laurel)
Sabotage his daughter's wedding. (Charlie Steinhice, Chattanooga)
We make him stand in for all those cardboard cutouts that photo vendors have up around the Capitol. (Brian Broadus, Charlottesville)
And last: He must sit in on a lecture about methyl bromide and its effects on the ozone, like I am doing right now, and I can assure you it is great punishment. (Kevin Cuddihy, Fairfax)
Next Week: The Verse of America