The Style Invitational

Week 279: Treacle-Down Theory

Sunday, July 19, 1998; Page F02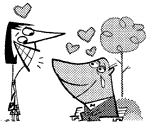 She smiled at a sorrowful stranger.

The smile seemed to make him feel better.

He remembered past kindnesses of a friend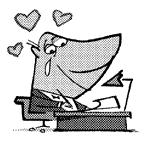 And wrote her a thank-you letter.
The friend was so pleased with the thank you,
That she left a large tip after lunch.
The waitress, surprised by the size of the tip,
Bet the whole thing on a hunch.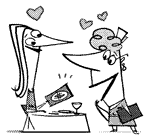 The next day she picked up her winnings,
And gave part to a man on the street.
The man on the street was grateful;
For two days he'd had nothing to eat.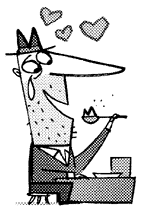 After he finished his dinner,
He left for his small dingy room.
He didn't know at that moment
That he might be facing his doom.
On the way he picked up a shivering puppy
And took him home to get warm.
The puppy was very grateful
To be in out of the storm.

That night the house caught on fire.
The puppy barked the alarm.
He barked till he woke the whole household
And saved everybody from harm.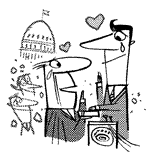 One of the boys that he rescued
Grew up to be President.
All this because of a simple smile
That hadn't cost a cent.


The revolting inspirational poem above has been circulating on the Internet; if you send it to friends, you are assured good luck yada yada yada. This Week's Contest is to come up with an even more treacly and deeply moving piece of crap, of any length. It must somehow mine joy and goopy inspiration from the vicissitudes of life. It must also rhyme. First-prize winner gets a framed photograph of William Howard Taft on the back of a very beleaguered-looking horse. This is worth $25.
First runner-up gets the tacky but estimable Style Invitational Loser Pen. Other runners-up receive the coveted Style Invitational Loser T-Shirt. Honorable Mentions get the mildly sought-after Style Invitational bumper sticker. Winners will be selected on the basis of humor and originality. Mail your entries to the Style Invitational, Week 279, c/o The Washington Post, 1150 15th St. NW, Washington, D.C. 20071; fax them to 202-334-4312; or submit them via Internet to this address: losers@washpost.com. Internet users: Please indicate the week number in the "subject" field. Also, please do not append "attachments," which tend not to be read. Entries must be received on or before Monday, July 27. Important: Please include your postal address and phone number. Winners will be announced three weeks from today. Editors reserve the right to alter entries for taste, humor or appropriateness. No purchase necessary. Today's Sign No One Heeds was written by Jonathan Paul of Garrett Park. Employees of The Washington Post and members of their immediate families are not eligible for prizes.

Report from Week 276,
in which you were asked to tell us the difference between any two items from a list of 14 we supplied. Many of you incorrectly assumed that "1-800-HER-LOVE" was a phone sex line. It is not. It is the telephone number of Mervis Diamond Importers Inc. and, quite possibly, the single most cynical advertising device in history. We hereby condemn Ronnie Mervis to Purgatory, by which we mean a place in which stray dogs defecate fine diamonds and the only truly valuable commodity, the only currency with which one can buy oneself a ticket out, is humility.
One other piece of unfinished business:
We are in receipt of correspondence from Mr. Russell Beland, of Springfield, Va., complaining that we did not officially give him credit for proposing this contest. He first proposed it in 1993, and believes that every time we use it -- this is the third -- we should again credit him. We hereby consign Russell Beland to apprentice duty in Ronnie's Purgatory, which also, as it happens, features a dunk tank in which vainglorious publicity-seeking chowderheads are lowered into a septic tank every time a diamond hits the gutter.
Fifth Runner-Up:
What is the difference between Satan and a 1958 VW Bug?
Hitler never got to see the 1958 VW Bug.
(Ian Morrissey, Walkersville)
Fourth Runner-Up:
What is the difference between a 1958 VW Bug and Cal's streak?
During Cal's streak, it took forever to shift to third.
(Chuck Smith, Woodbridge)
Third Runner-Up:
What is the difference between 1-800-HER-LOVE and that not-so-fresh feeling?
Diamonds are a girl's best friend.
(Jennifer Hart, Arlington)
Second Runner-Up:
What is the difference between a 1998 VW Bug and "Toy Boat Toy Boat Toy Boyt?"
Actually, there is no difference. In both cases, every third one is defective.
(Dirk L. French, Woodbridge)
First Runner-Up:
What is the difference between William Ginsburg, Esq., and a chicken?
A chicken has no concept of criminal law, no common sense, no maturity of judgment and does not have a pager. Mr. Ginsburg has a pager.
(William M. Powell, Arlington)

And the winner of the Monica Lewinsky T-shirt:
What is the difference between the human navel and a 1998 VW Bug?
In the case of the navel, most people would rather have an innie. In the case of the Bug, most people would rather have an Audi.
(Russell Beland, Springfield)

Honorable Mentions:
What is the difference between Satan and Sigmund Freud's mother? Sigmund Freud's mother is responsible for more anguish and suffering.
(Tom Witte, Gaithersburg)
What is the difference between the Washington Mystics and William Ginsburg, Esq.? At least the Mystics get to the court before they lose.
(Peter J. Hughes, Alexandria)
What's the difference between a 1958 VW Bug and a 1998 VW Bug? You can boink fatter chicks in the 1998 Bug.
(Joey Buttafuoco, New York; Tom Witte, Gaithersburg)
What is the difference between the human navel and the Washington Mystics? The navel has more depth.
(Dirk L. French, Woodbridge)
What is the difference between Cal's streak and Sigmund Freud's mother? During his streak, Cal has never complained about all his sacrifices.
(David Genser, Arlington)
What is the difference between the human navel and the 1998 VW bug? The human navel has slightly more storage space.
(Mia Kim and Jeffrey Wolfson, North Bethesda)
What is the difference between Satan and the human navel? One was conspicuously absent in the Garden of Eden.
(Sandra Hull, Arlington)
What is the difference between the human navel and Sigmund Freud's mother? It depends. Is the navel a paradigm for attachment? Or an archetype for separation angst? This bears more intense scrutiny.
(Paul Kocak, Syracuse)
What is the difference between Satan and Stephen Glass's reputation? In the case of Stephen Glass, only his pants are on fire.
(Jennifer Hart, Arlington)
What is the difference between a 1958 VW Bug and Satan? If Satan delivered your pizza, it might actually be warm.
(Brian Broadus, Charlottesville)
What is the difference between 1-800-HER-LOVE and William Ginsburg, Esq.? With 1-800-HER-LOVE you think ring finger. With William Ginsburg, you think middle finger.
(Stephen Dudzik, Silver Spring)
What is the difference between the Washington Mystics and William Ginsburg, Esq.? The Mystics know their defense is terrible.
(Jonathan Paul, Garrett Park)
What is the difference between a chicken and William Ginsburg, Esq.? Ginsburg requires less jerk sauce.
(Phil Frankenfeld, Washington)
What is the difference between the human navel and William Ginsburg, Esq.? The navel is full of only lint.
(Bob Mills, Studio City, Calif.)
What is the difference between a 1958 VW Bug and that not-so-fresh feeling? A 1958 VW Bug produces more cramping.
(Dave Garratt, Greenbelt)
What is the difference between the yen and the Washington Mystics? The yen can rebound.
(Max Handelsman, Washington)
Next Week: Life In The Blurbs