The Style Invitational


Week 276: Spit the Difference

Sunday, June 28, 1998; Page F02




What's the difference?
The Human Navel

Stephen Glass's Reputation

1-800-HER-LOVE

A 1958 VW Bug

A 1998 VW Bug

Satan

That "Not So Fresh" Feeling

Cal's Streak

The Washington Mystics

The Yen

A Chicken

William Ginsburg, Esq.

Sigmund Freud's Mother

Toy Boat Toy Boat Toy Boyt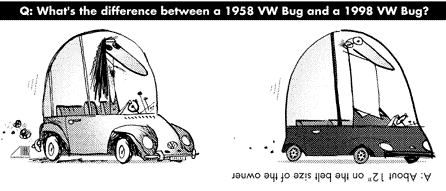 Above illustration by Bob Staake / The Washington Post
This Week's Contest: Tell us the difference between any two of the above.
(As in, "What is the difference between the yen and Stephen Glass's reputation? The yen could, technically, still fall a little more.") First-prize winner gets a "That Girl" T-shirt, featuring a likeness of Monica Lewinsky, donated to the Style Invitational by Stephen Dudzik of Silver Spring, who wins an antique plastic enema inserter, dug up from a construction site and donated to the Style Invitational by Sandra Hull of Arlington, who doesn't win anything because, after all, how low can you go?
First runner-up gets the tacky but estimable Style Invitational Loser Pen. Other runners-up receive the coveted Style Invitational Loser T-shirt. Honorable Mentions get the mildly sought-after Style Invitational bumper sticker. Winners will be selected on the basis of humor and originality. Mail your entries to the Style Invitational, Week 276, c/o The Washington Post, 1150 15th St. NW, Washington, D.C. 20071; fax them to 202-334-4312; or submit them via Internet to this address: losers@washpost.com. Internet users: Please indicate the week number in the "subject" field. Also, please do not append "attachments," which tend not to be read. Entries must be received on or before Monday, July 6. Important: Please include your postal address and phone number. Winners will be announced three weeks from today. Editors reserve the right to alter entries for taste, humor or appropriateness. No purchase necessary. Today's Sign No One Heeds was written by Stephen Dudzik of Silver Spring. Employees of The Washington Post and members of their immediate families are not eligible for prizes.

Report from Week 273,
in which you were asked to come up with bad ideas for a children's book, a political slogan, an Olympic sport or a TV sitcom. But first, an announcement. This week's results contain the name of Loser 2000, the 2,000th reader to appear in the Style Invitational. We notified him, and solemnly promised that we would not "print" anything remotely embarrassing to him.
Third Runner-Up:
Something That Will Never Become an Olympic Sport --
Throwing Like a Girl
(Kenneth Krattenmaker, Landover Hills)
Second Runner-Up:
A Children's Book You Will Never See --
"You Were an Accident"
(Jean Sorensen, Herndon; Barry Blyveis, Columbia)
First Runner-Up:
A Children's Book You Will Never See --
"Strangers Have the Best Candy"
(Stephen Dudzik, Silver Spring)

And the winner of the Washington Redskins poster:
Political Slogan That Will Never Make It --
"I Am Wanting Very Very Much to Be Your President of America."
(E.J. Lloyd, Fairfax Station)

Honorable Mentions:
---
Something That Will Never Become An Olympic Sport:
Chutes and Ladders
(Tom Witte, Gaithersburg)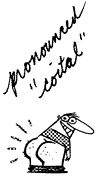 Broken Beer-Bottle Fencing
(Martin Keutel, ------------------------------------> Alexandria)
Greco-Roman Twister
(Chuck Smith, Woodbridge)
Football With a Paper Triangle on a Table
(Martin Keutel, Alexandria)
Driving While Putting On Makeup
(Greg Arnold, Herndon)
Stop, Drop and Roll
(Laurie Geller, Washington)
Coach Choking
(Jonathan Paul, Garrett Park)
Sliding a Chunk of Granite Down the Ice as Pudgy Guys With Brooms and Unmatched Shoes Sweep a Path for It
(Jenny Gundersen, Chapel Hill)
Holding Your Breath Underwater
(Ben Margulies, Bethesda)
---
A Political Slogan That Will Never Make It:
"Ruthann Aron in 2000"
(Tom Witte, Gaithersburg)
"Vote for Me and I'll Vote for You."
(Paul K. Allen, Greenbelt)
"Invoke Cloture on H.R. 4921!"
(David Genser, Arlington)
"Unqualifiedly the Best Candidate"
(Elden Carnahan, Laurel)
"I Am Not a Crook, Either"
(Kenneth Krattenmaker, Landover Hills)
"He'll stay Bought"
(William Powell, Arlington)
"We Must Get On the Next Comet"
(Stephen Dudzik, Silver Spring)
"We Need a New Constitution!"
(Jeff Becan, Washington)
---
A Children's Book You Will Never See:
"The Little Sissy Who Snitched"
(Tom Witte, Gaithersburg)
"Some Kittens Can Fly!"
(David Genser, Arlington)
"The Protocols of the Grandpas of Zion"
(David Genser, Arlington)
"How to Dress Sexy for Grownups"
(Stephen Dudzik, Silver Spring)
"Getting More Chocolate on Your Face"
(Thomas Drucker, Carlisle, Pa.)
"Where Would You Like to Be Buried?"
(Barry Blyveis, Columbia)
"Where's Godot?"
(Jonathan Paul, Garrett Park)
"Katy Was So Bad Her Mom Stopped Loving Her"
(David Genser, Arlington)
"The Attention Deficit Disorder Association's Book of Wild Animals of North Amer Hey! Let's Go Ride Our Bikes!"
(Meg Sullivan, Potomac)
"All Dogs Go to Hell"
(Joseph Romm, Washington)
"The Kids' Guide to Hitchhiking"
(Joseph Romm, Washington)
"When Mommy and Daddy Don't Know the Answer They Say God Did It"
(Barry Blyveis, Columbia)
"Garfield Gets Feline Leukemia"
(John Kammer, Herndon)
"What Is That Dog Doing to That Other Dog?"
(Kenneth Krattenmaker, Landover Hills)
"Why Can't Mr. Fork and Ms. Electrical Outlet Be Friends?"
(Martin Keutel, Alexandria)
"Bi-Curious George"
(Art Grinath, Takoma Park)
"Daddy Drinks Because You Cry"
(Stephen Dudzik, Silver Spring)
"Mister Policeman Eats His Service Revolver"
(Russ Beland, Springfield)
"You Are Different and That's Bad"
(Christopher Richard, Springfield)
---
A TV Sitcom You Will Never See:
"Mahmoud and Svetlana"
(Warren Blair, Ashburn)
"Ginsburg Knows Best"
(Philip Vitale, Arlington)
"The New Sonny & Cher Comedy Hour"
(David DeCouto, Lanham)
Next Week: The Droll of a Lifetime