The Style Invitational


Week 270: Palinode -- Have Pun, Will Travel

Sunday, May 17, 1998; Page F02




Mary didn't have a lamb,
It was a stupid swine.
She roasted it and called it ham.
Delicious, with red wine.
I took the path more traveled.
The less traveled one was muddy.
I had a pair of brand new shoes.
Want to make something of it, buddy?
This Week's Contest was proposed by Paul Styrene of Olney, who discovered an old poetic form called the "palinode," in which the poet retracts something said in an earlier poem, as in the examples above. Paul wins a copy of Dan Quayle's "American Family," signed by someone who was forging Quayle's signature, which seems somehow appropriate. Your poem must be four lines long and contain at least one rhyme. First-prize winner gets a nine-minute videotape of the National Flossing Council's 1998 ad campaign, in which famous toothsome persons such as Jerry Seinfeld and Kate Moss urge you to floss.
First runner-up gets the tacky but estimable Style Invitational Loser Pen. Other runners-up receive the coveted Style Invitational Loser T-shirt. Honorable Mentions get the mildly sought-after Style Invitational bumper sticker. Winners will be selected on the basis of humor and originality. Mail your entries to The Style Invitational, Week 270, c/o The Washington Post, 1150 15th St. NW, Washington, D.C. 20071; fax them to 202-334-4312; or submit them via Internet to this address: losers@washpost.com. Internet users: Please indicate the week number in the "subject" field. Also, please do not append "attachments," which tend not to be read. Entries must be received on or before Monday, May 26. Please include your address and phone number. Winners will be announced three weeks from today. Editors reserve the right to alter entries for taste, humor or appropriateness. No purchase necessary. Today's Ear No One Reads was written by Richard Leiby of Silver Spring. Employees of The Washington Post and members of their immediate families are not eligible for prizes.

Report from Week 266,
in which we asked you to redefine any words from the dictionary.
Fifth Runner-Up -- Cockroaches Unclear on the Concept:
Two roaches have walked into a roach motel. They are stepping in sticky, gooey stuff. Woman cockroach: "This is intolerable. Larry, call Housekeeping and complain ..."
(Ned Bent, Herndon)
Fourth Runner-Up -- A National Organization for Women rally on the mall:
Boffo has set up a food stand. Signs advertise: "Nice buns!" and "Great melons!" and "Luscious pieces of meat!"
(John Oesterle, Burke)
Third Runner-Up -- New York Marathon:
Boffo has a stand on the side of the road. He is selling Ex-Lax.
(Chuck Smith, Woodbridge)
Second Runner-Up: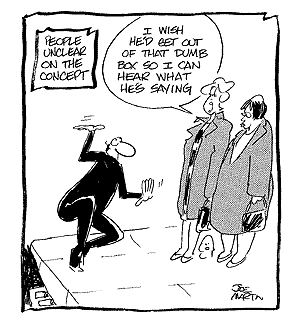 (Joseph Romm, Washington)


First Runner-Up: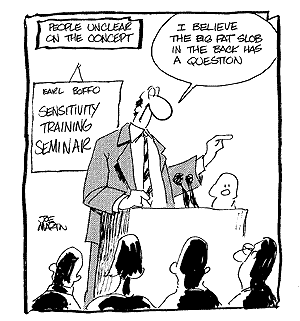 (Jean Sorensen, Herndon)

And the winner of this cartoon:

(John Allen, Charlottesville)

Honorable Mentions:
A guy in dorky swim trunks and snorkel, with a blow-up ducky around his waist, walking into a tough inner-city pool room.
(David Funkhouser, Rockville)
A prophet in robes walking street with sign: "The World Will End in 2.6 Million Years."
(Mike Genz, La Plata)
Two sumo wrestlers, facing off in the ring. One is pointing to his thong and asking the other: "Does this make me look fat?"
(Jennifer Hart, Arlington)
Condemned man positioned in guillotine. Machine has failed to operate properly. Technicians stand around looking at the mechanism, befuddled. Condemned man looks up and says: "Wait, I think I see the problem "
(Elden Carnahan, Laurel)
A condemned man is finishing his last meal. He is asking for a doggie bag.
(Elden Carnahan, Laurel)
Man in confessional, to priest: "But enough about me "
(John Allen, Charlottesville)
Firing squad: The guys with the rifles are wearing blindfolds and smoking cigarettes.
(Greg Arnold, Herndon)
Man and meter maid. She has handed him a ticket, and he is handing it back: "I'm sorry, ma'am, but you got a digit wrong on my license number, and this is a Mazda, not a Toyota."
(Jeffrey Hamberger, Gaithersburg)
Masked bank robber holding loot in one hand and gun in other, being chased by cop. Cop: "Halt, or I'll draw my gun."
(David Genser, Arlington)
Man in hospital, looking at newborn twins. "This is great. They'll keep each other entertained, and I'll be able to sleep through the night."
(Tom Kreitzberg, Silver Spring)
Bank robber to teller: "On second thought, why don't you just deposit it into my account?"
(Mike Genz, La Plata)
Mr. Boffo is a guest on "Jerry Springer." Boffo: "Sorry, I can't discuss that. It's personal."
(Gretchen Schieber, San Jose)
And Last:
I have a really great entry to this contest. I'm waiting for The Post to send a reporter to my home to interview me about it.
(Dave Zarrow, Herndon)

Next Week: What Kind of Foal Am I?

(John Kammer, Herndon)