The Style Invitational

Week 261: What If You Give It a Try II
Sunday, March 15, 1998; Page F02




What if Fidel Castro had been flattened by a bus in 1958? Cuba becomes the 51st state in '65, the Washington Senators become the Havana Jefes in '71.

What if the South had won the Civil War? Arkadelphia, Ark. is the cradle of an international renaissance of art, science and culture. Also, Billy Wayne "Moose" Clampett, the Bill Gates of the South, makes his fortune in spittoons.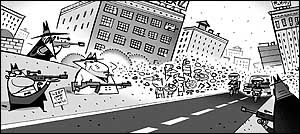 (By Bob Staake for The Washington Post)


What if Oswald had missed? Nothing changes. The guy on the grassy knoll, or the guy with the grenade launcher popping out of the manhole or the guy behind the tree with the umbrella-rifle completes the hit.
This Week's Contest was proposed by Elden Carnahan of Laurel, who wins a stale Chinese fortune cookie containing (we are reliably informed) an X-rated fortune. Elden suggests that you alter some crucial moment in history, and then tell us the likely outcome. First-prize winner gets "The Best of Annals of Improbable Research," donated to The Style Invitational by Sarah Worcester of Bowie. This is a terrific book of bogus science, including the famous experiment "How Dead Is a Doornail?," in which scientists performed an electroencephalogram on a doornail. (It is really most sincerely dead.) The best part is that the book is signed by editor-author Marc Abrahams, and hand-dedicated to "The Winner of the Style Invitational."
First runner-up gets the tacky but estimable Style Invitational Loser Pen. Other runners-up receive the coveted Style Invitational Loser T-shirt. Honorable Mentions get the mildly sought-after Style Invitational bumper sticker. Winners will be selected on the basis of humor and originality. Mail your entries to The Style Invitational, Week 261, c/o The Washington Post, 1150 15th St. NW, Washington, D.C. 20071; fax them to 202-334-4312; or submit them via Internet to this NEW address: losers@washpost.com. Internet users: Please indicate the week number in the "subject" field. Entries must be received on or before Monday, March 23. Please include your address and phone number. Winners will be announced three weeks from today. Editors reserve the right to alter entries for taste, humor or appropriateness. No purchase necessary. We wish to thank Maja Keech of New Carrollton for today's Ear No One Licks. Employees of the Washington Post and members of their immediate families are not eligible for prizes.

Report from Week 258,
in which we asked you how you would use any of five super powers. But first, an urgent message for everyone who enters this contest through e-mail. The Invitational has a new address: losers@washpost.com. Starting next week the old address won't work anymore. Back to the super powers:
Fifth runner-up: The ability to communicate with animals
I'd tease the big male macho animals by telling them our females are always in heat. (Barry Blyveis, columbia)
Fourth Runner-Up: The ability to fly, become invisible, read minds and belch fire
Maybe then I could play Michael Jordan, one on one, even-up. Probably not. (Mike Genz, La Plata)
Third Runner-Up: The ability to fly
I would float weightless, becoming one with the beauty of nature, freed from earthly bondage, part of the cosmos, touching the very face of God. Then I would drop stuff on people and laugh at them. (Jessica Henig, Northampton, Mass.)
Second runner-up: The ability to fly and become invisible
At the golf course, I'd pick some pathetic 30 handicapper and catch his ball in the air and put it in the hole, and keep doing it until the 18th green, where I would kick his shots off course until he "26-putted" and finished with a 112. (Ned Bent, Herndon)
First Runner-Up: The ability to communicate with animals

While cooking chicken on the grill, I would strike up a conversation with the salmonella; when they stop answering me, the meat is done. (Greg Arnold, Herndon)
And the winner of the reindeer-antler aphrodisiac powder:
The ability to belch fire -- I'd give this ability to Monica, so she could have closure to her relationship. (Christina Courtney, Ocean City, Md.)
Honorable Mentions:
The ability to belch fire:
I'd get a great job lighting the torch at the Redneck Olympics. (Stephen Dudzik, Silver Spring)
Riverdance would be nothing but wisps of steam. (Brian Broadus, Charlottesville)
I'd really, really look forward to the part where the doctor tells you to turn your head and cough. (Jonathan Paul, Garrett Park)
Sushi bars. (Cathie Aime, Blacksburg)
The ability to become invisible:
Now I can sleep in the Lincoln Bedroom without paying or interning. (Amy Bender, Reston)
I'd stand behind people getting on scales, sneak a foot on and add 10 pounds or so.(Art Grinath, Takoma Park)
I am not sure what I would do, but it certainly would not involve the dressing room of a Victoria's Secret store, ogling the forbidden flesh as it passes inches from my face, tantalizing me, begging to be seen but never touched. (T.J. Murphy, Arlington; Niels Hoven, Silver Spring)
I would put a collar on my dog and walk him. We would meet my buddy, who has one of those collars for walking an "invisible dog." Then he and I would walk together. It would be a kind of yin and yang thing. (Roy Ashley, Washington)
I would send nasty e-mails to my boss, and no one would know it was me! Oh, wait, that wouldn't work. (David Genser, Arlington)
I would accept slug rides in the HOV lane, and then every time we passed a cop, I would disappear. (Russ Beland, Springfield)
I would follow Martha Stewart around and mess things up. (Susan Reese, Arlington)
I actually have this power. It happens whenever I walk into a singles bar. (Ned Bent, Herndon)
The ability to communicate with animals:
I'd give my e-mail address to my cat. I'd give it to my dog, too, but he would always be bugging me. (David Genser, Arlington)
"Okay, Number 3, you're 30 to 1 today. You want to win this one, or do you want to find your owner's head in your stall tomorrow?" (Michael J. Hammer, Washington)
I'd depose Kato, the Akita, and put an end to this travesty once and for all. (Mike Genz, La Plata)
I would tell the house cats of the world that we don't really care about them either, and we just tolerate their being around. That will show them. (Russ Beland, Springfield)
I'd stand by the lobster tank in a fancy restaurant and train the lobsters to act dead when they were pointed to. (Niels Hoven, Silver Spring)
I'd become a standup comic and perform before lions. I would tell about the guy who said the lion will lie down with the lamb. I'd get a lot of laughs with that one. (Barry Blyveis, Columbia)
The ability to fly:
I'd become a stand-up comic and say, "I just flew in from Paris, and boy are my arms tired," and it would actually be funny. (Art Grinath, Takoma Park; Jerry Pannullo, Kensington)
I'd get on an airplane and complain loudly about the food and service. Then, at 30,000 feet, I'd storm up the aisle, open the door and leave. (John Kammer, Herndon)
The ability to read minds:
I would bring peace to the world by searching for common ideas, and I would help doctors treat children who are too young to describe their symptoms. But only when I am not busy at the Vegas poker tables. (Michael J. Hammer, Washington; Tom Witte, Gaithersburg)
I'd know exactly how much to spend on a dinner date. (Tom Witte, Gaithersburg)
I would hang out on the set of "Baywatch" to get some peace and quiet. (David Genser, Arlington; Ned Bent, Herndon)
The ability to become invisible and talk to animals:
I would mess with the researchers' heads by teaching Koko the gorilla how to sign things like "Bite me" and "I want a bra." (Stephen Dudzik, Silver Spring)
I would follow the Discovery Channel cameras around and instruct every animal on which the camera is not focused to do the Macarena until the camera turns toward him, and then behave normally. (Jose Cortina, Centreville)
And Last:
If I were invisible -- Late at night just before the press run, I would sneak into the offices of the Style Invitational and insert my stupid, humorless, illogical entry into the "And Last" slot. (Niels Hoven, Silver Spring)
Next Week: Spare Exchange, Buddy?